The Food Roadshow is our second stage area, busy all weekend with a variety of different chefs and producers.  Click here for timings.
Linda Hewitt
Linda is a bread maker with a passion to help other people to bake their own bread!  She will be demonstrating at out food roadshow on both days of the Nottingham Food and Drink Festival and will also be running a children's workshop on the delights of baking.
Mark Lees
Mark Lees from Crayfish Capers is an old friend and you may have seen him in action at one of our Country Shows. He's going to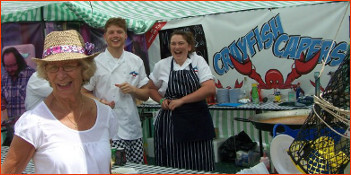 be demonstrating how to work with crayfish.  Mark has been an Environment Agency licensed Signal Crayfish Trapper for over 10 years. He has been campaigning to raise the profile of the Signal Crayfish and managed to get on the Hairy Bikers family Cook off series last year on BBC2 where they headlined and cooked with the Crayfish and even managed to get to the final. Mark has also cooked his Signal Crayfish recipes for a number of celebrities on the BBC and at Food Shows in an effort to raise the profile. It has been a great success to date and people are starting to realize their brilliant taste
Arfan Rasik
Owner of The Curry Lounge in Nottingham, Arfan is one of the best Indian Cookery chefs in the business.  Don't miss this demonstration!
Arfan does require assistant chefs for his demonstrations – here pictured with some of the best from Burghley Country Show this year
Will McKee
An excellent chef of many years' experience, Will began his career at the same Hotel as the 'God Father' of modern cookery – Marco Pierre White.
He went from self taught to professional over the next few years, and during this time, Will started doing cookery demonstrations, working alongside various chefs including the one and only Ainsley Harriet.
His first Head Chef position was in a farm shop restaurant which he loved as it meant he could use fresh products straight from the farm into the kitchen. Next came Head Chef at 'Robin Hood inn' Elkesley then to 'Thoresby Hall,' again in the county of Nottinghamshire but with the opportunity to work with award winning Chef Jason Wardill.
Will has appeared on various cookery shows including 'Master Chef live' and he is now one of our resident chefs at many of the Living Heritage Country Shows.
Johnny Pusztai (Sunday)
Johnny is the most entertaining butcher ever!  He will be running the Kids' Burger Challenge in the food roadshow on the Sunday only, so don't miss this!
Also sausage making demonstrations on his own stand.